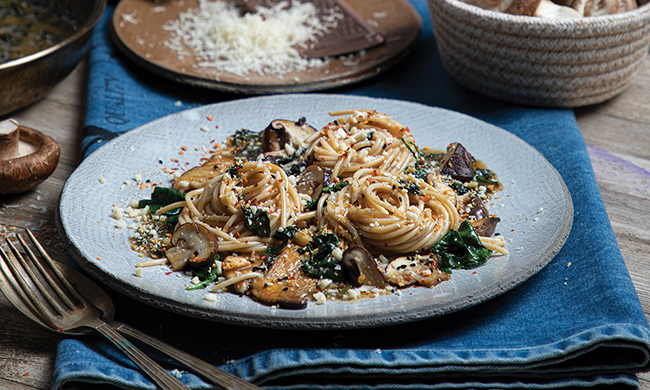 Family Features - Memories made and recipes shared are the trademarks of a successful holiday gathering, and this year, you can host your way to a practically perfect party with delicious dishes that resonate with the flavors of the season.
If you and your family enjoy mushrooms dishes or you are looking for a cozy meatless meal to impress holiday guests, then this recipe is for you.
This could be a family-favorite in your house. Start your meal with a main course that looks and smells as good as it tastes. Creamy Mushroom Pasta Nests deliver that festive flavor with a robust blend of breadcrumbs, earthy mushrooms and a homemade sauce crafted with Violife Just Like Cream Cheese. Developed to capture the taste of dairy cream cheese, it's designed to be enjoyed by everyone at the table this holiday season as a non-GMO solution free from dairy, soy, nuts, gluten, preservatives and lactose.
Serve with a fresh tossed salad and warm bread for a memorable meal.
Visit ViolifeFoods.com to find more holiday-worthy recipes.
Creamy Mushroom Pasta Nests
Prep time: 30 minutes
Cook time: 20 minutes
Servings: 4
Marinade:
2 tablespoons olive oil
3 1/2 ounces hoisin sauce
2 tablespoons sesame oil
1 tablespoon garlic chili paste
2 tablespoons black and white sesame seeds
1 teaspoon harissa paste
Breadcrumbs:
1 tablespoon Violife Plant Butter
1/2 cup panko breadcrumbs
1 tablespoon fresh rosemary
1 teaspoon dried garlic
Pasta:
17 1/2 ounces mushrooms, roughly sliced
2 tablespoons olive oil
10 1/2 ounces fresh spinach
1 package Violife Just Like Cream Cheese Original
17 1/2 ounces whole-wheat spaghetti
1 teaspoon red pepper flakes
3 1/2 ounces Violife Just Like Parmesan Wedge, grated
To make marinade: Whisk olive oil, hoisin sauce, sesame oil, garlic chili paste, sesame seeds and harissa paste. Set aside.
To make breadcrumbs: In frying pan, heat plant butter. Add breadcrumbs, rosemary and garlic; saute 3-5 minutes until golden. Remove from heat and set aside.
To make pasta: Saute mushrooms in olive oil 5-7 minutes until golden. Add spinach, 2-3 minutes, and pour over marinade. Add cream cheese and whisk until creamy.
Boil pasta according to package instructions. Sieve and reserve 1/2 cup pasta water, adding to pasta sauce. Whisk constantly until combined.
Using tongs, make small nests in pasta, place on plates and pour creamy mushroom sauce on top.
Sprinkle with breadcrumbs, red pepper flakes and grated Parmesan.